Alpharetta
Property Inspections LLC
THE BEST IN ROSWELL, GA HOME INSPECTIONS
WE ARE YOUR PREMIER HOME INSPECTORS IN ROSWELL, GEORGIA. INTERNACHI CERTIFIED & YEARS OF EXPERIENCE IN THE TRADES, & THE BEST TRAINING AND METHODS IN THE INDUSTRY.
Roswell, GA Home Inspections
ONLY THE bEST
Welcome to Alpharetta Property Inspections – Rosell, GA's premier home inspection company. InterNACHI Certified home inspectors. We have years of experience in the trades, years of inspection experience, InterNACHI Certified, and the best home inspections in Roswell.
Roswell is a great place to live, but takes an inspector with experience in the homes here to know what to look for – and where to find it. I am that inspector. I have an old-school work ethic that is hard to find nowadays and I combine that with the latest in technology.
If you are looking for the best home inspector around – then you have come to the right place. Schedule your inspection with us today!
Matthew Helwig
2022-03-08
Kris performed a home inspection for me for a real estate transaction and he was EXTREMELY thorough and explained everything as we walked through the house. He went above and beyond and I can't recommend him highly enough!
Informative and indispensable for first time homebuyers! We were referred to Alpharetta Property Inspections by our real estate agent. As a first time homebuyer, I was nervous about not knowing what I don't know, but Kris did a great job showing me all the nooks and crannies of our soon-to-be-house and explaining what different things meant. We'll be moving in with the knowledge that we found a great house and with an understanding of things we might need to keep an eye on in the future.
My husband and I were very satisfied with the service and would definitely recommend.
Sonata Albright
2021-07-13
To say we satisfied with Kris is an understatement. He was recommended by our real estate agent and it has been the best experience. We are first homebuyers and Kris has been amazing and thorough with each inspection. He answered any and every question we've had in detail and it's been a relief to have a good and honest person helping us through all of this.
Professional, personable, but more than anything, our inspector, Kris, was really good at his job. His knowledge was extremely valuable. I would say that our inspection report helped us make critical decisions on purchasing a home.
Stephanie Klan
2021-06-23
Kris was very helpful and knowledgeable. He was able to come next day for an inspection with my buyer and answered give my buyer reassurance about his future home purchase and the problems with the property. We also received the inspection report promptly the same day as inspection which is very helpful in this market. I would definitely work with Kris again in the future!
In an aggressive real estate market, you need to be able to trust the vendors that you use for various services. I found my ability to trust Alpharetta Property Inspections easy based on their professionalism, confidence in their craft, and depth of information. Inspector was on time, informative about things to note vs things that were not good, and took his time to ensure he saw every spot in the house. Would recommend and use again.
These inspectors are truly a life saver! Worth every penny! Helped me dodge a bullet! I am so grateful I was informed so we bought a different house that didn't have a ton of hidden problems. They are extremely detailed with lots of high tech equipment. I loved the infrared imagery they were able to produce of the home, very revealing! I would absolutely use them again in the future!
Google rating score: 5 of 5, based on 36 reviews
What is Included
We thoroughly inspect every home from roof to foundation. We gather information and rate the condition of your home's components so that you have a clear view of what is going on in your home. With all of our reports come the Repair Request Builder and other great features.
Roofing material
vents, flashing, soffit, fascia
siding, exterior electrical components, exterior plumbing
decks, patios, porches, balconies
windows, doors, exterior penetrations
overall grading, site drainage
garage, sidewalks, driveway
Attic space
crawlspaces
foundation
wall, floor, and roof framing
overall stricture
stairs and handrails
floors, walls, ceilings
bathrooms, kitchen, laundry area
All living spaces in the home
lectric panel and sub-panels
120/240 wiring
outlets and fixtures
plumbing drain lines
plumbing supply lines
water heater
HVAC system
Serving the Roswell & Atlanta Areas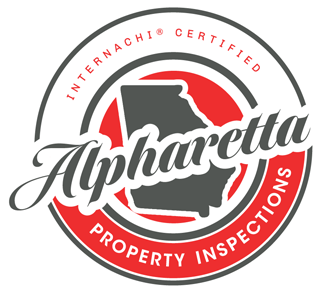 North Georgia's Home Inspection Specialists
We offer professional home inspections to North Fulton, Forsyth, Gwinnett, Cobb, Dekalb, and Cherokee counties. This includes the cities of Alpharetta, Milton, Johns Creek, Suwanee, Roswell, Marietta, Cumming, and Canton.
Home inspections start as low as $450
Appointments are available Monday - Saturday, including evenings as necessary. Online payments are accepted.
At Alpharetta Property Inspections LLC, we know that when a particular home looks like it may be the perfect one for you, excitement will reach an all-time high. But while first impressions are important, they have to be managed carefully—and that's why we offer a comprehensive property inspection that will give you a deeper understanding of the home so that you're able to make an informed decision. Contact us today to request an inspection.